O.A.R. – Spring Fling Tour
with Satsang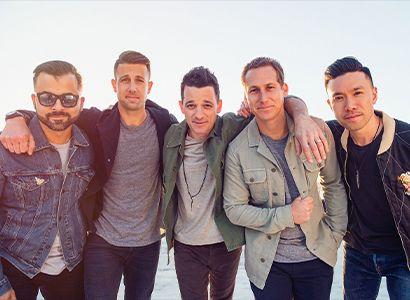 O.A.R. – Spring Fling Tour
with Satsang
| | | |
| --- | --- | --- |
| Doors: | | 7:00 pm |
| Start: | | 8:00 pm |
| Age: | | All ages |
| Price: | | $80 GA / $165 Reserved |
Five albums broke the top 40 on the Billboard 200 chart.
Sold Out
Event Information
Genre: Jam Band
ALL AGES: 18+ w/ valid photo ID, under 18 must be accompanied by parent or guardian.
Reserved seating is available for $165 and guarantees a seat in the reserved section. If necessary groups will be paired together at tables. Seating is based on time of purchase and the configuration of groups.
There is a ticket limit of 4 GA OR 6 RESERVED per customer based on address, credit card, email address, or other information. Multiple accounts may not be used to exceed these ticket limits. Limits for each show may vary and are listed on the individual show purchase page.
Digital Delivery is only valid if purchased from Belly Up, Aspen. Do not purchase Digital Delivery from unauthorized sources as they may be lost, stolen or counterfeit, and if so, are VOID. Additionally, we may be unable to verify that tickets purchased from third parties are valid and in such case, you may not be permitted entrance to the show. Remember, there are no exchanges or refunds.
DIGITIAL DELIVERY OF TICKETS WILL BE ON A DELAY FOR THIS SHOW, and will be emailed to the address you provided prior to the show date, typically within a week of the show, but may be as late as the day prior. This gives us the ability to monitor for purchases which may not adhere to our ticket policies. You will receive an individual email for each ticket purchased with your ticket attached. Each ticket must be readily available on your phone or printed and brought to the event. All WILL CALL tickets will be released to the original buyer or authorized transferee only upon presentation of a valid picture ID.
Orders exceeding published limits, or any tickets purchased for resale, or the resale or attempted resale of any ticket at a price greater than face value is a violation of our ticketing policy and we may cancel a portion or all of such orders without notice. Ticketing violations may result in the prohibition of future ticket purchases. In each such case, service fees charged for the purchase of tickets may be retained by Belly Up, Aspen. We reserve the right to change the delivery method from Digital Delivery to Will Call for release on the night of the show.
Supporting acts may be changed or cancelled without notice, however such change or cancellation is not grounds for refunds.
Artist Presale: Tuesday, November 5 @ 10am MT
Belly Up Presale: Wednesday, November 6 @ 2pm MT
Public Onsale: Friday, November 8 @ 10am MT
O.A.R.
What do you call a band whose twenty year-career spans sold-out stands at both Madison Square Garden and Red Rocks Amphitheater, millions of albums sold over the course of what will be nine full-length releases, and multiple chart-busting entries? In the case of O.A.R., two simple words suffice: "The Mighty."

That's the best way to sum up the Maryland quintet—Marc Roberge [lead vocals, rhythm guitar], Richard On [lead guitar, backing vocals], Chris Culos [drums], Benj Gershman [bass], and Jerry DePizzo [saxophone, guitar, backing vocals, additionally MikelParis [keys, backing vocals, percussion] and Jon Lampley [trumpet, backing vocals].

Since their emergence in 1996, the musicians have tirelessly delivered a signature brand of rock steeped in alternative scope, roots tradition, and pop ambition. Among many highlights, 2008's All Sides yielded the platinum single "Shattered" and bowed in the Top 15 of the Billboard Top 200 a space they continually occupied with King [2011] and The Rockville LP [2014].

Beyond packing arenas and amphitheaters coast to coast, they've given inspiring performances on The Today Show, CONAN, the 2015 Special Olympics Opening Ceremony, the ESPYS, in addition to playing their hit song "Peace" at the coveted Times Square New Year's Eve Celebration on the eve of 2016.

"Richie Sambora announced us at Red Rocks as 'The Mighty O.A.R.' a few years back," recalls DePizzo. "Those two words just stuck with us, and Marc suggested we use it as the album title. We have a great sense of pride in the career we've had up to this point. The term wraps up who the band is in 2019. It feels good to us."

"Our hope is everyone leaves our show feeling better than when they got there," says Culos. "We make that happen by playing together as a unit, playing with a pulse. Through that pulse, we tell our story. It's about friends and family - our brotherhood. The Mighty refers to our foundation."

O.A.R. most definitely do that on their latest offering. They also tread uncharted territory. Rather than follow the same playbook and record during a set timeframe, they intermittently recorded throughout 2018, working on or writing a song only when inspired. Crafting all the songs simultaneously until the very last hours of the production deadline. In the studio, longtime producer Gregg Wattenberg would be joined by PomPom, who added a fresh take on the sound with an electronic sensibility and expanded soundscape.

"We used to rent a place for a month, go in, write music, take off for a break, and then record for another month," says Roberge. "Thanks to Wattenberg, we now had access to a brand new studio and his guidance without the pressures of the clock. We could come and go when inspired, and fell into this comfortable experience. For the first time the schedule went out the window."

"PomPom grew up around O.A.R. music," DePizzo says. "To be able to bring someone into the fold who came up with your tunes and influence added a whole different perspective."

Case in point is the first single, "Miss You All The Time." Produced by Gregg Wattenberg and Derek Fuhrmann. Its lush keys and moving guitar riff uphold an orchestral admission, "I miss you all the time." The emotionally charged send-off immediately resonated with fans as the official music video directed by Rudy Mancuso swiftly clocked over 5 million views on YouTube, and counting.

"Like anyone, we've seen tragic losses over the years," says Roberge. "You have people in your life who are so important and influential, and then one day they're gone. It happens quickly, and you're left to pick up the pieces. We wanted to celebrate their greatness instead of mourn. 'Miss You All The Time' is a moment to honor those who aren't with us anymore."

Whether it's the space and harmony of "Free", the uplifting anthem "California", or the addictive groove on "Knocking at Your Door," O.A.R. ignite a bold, brilliant, and inspired next chapter.

"It's a renewal of experiences," says Roberge. "We've built the foundation, we've got the confidence to be who we are."

And, who are they in 2019?

Well, they're The Mighty O.A.R.

"We're fortunate as hell to have done this for over two decades," Culos leaves off. "We've done it together. We have each other's backs, and we're a family. There's a feeling of freedom in that."





The Mighty will be released March 29, 2019 on RED Music.

Satsang
A Sanskrit word meaning "in the company of truth."
It's a beautiful moment when music from the heart and poetry from the soul truly connects with its intended audience. For Satsang lead singer and songwriter Drew McManus, that moment occurred on a 2018 tour through the Midwest, Northeast and Pacific Coast in which two-thirds of the band's dates sold out. That's when the truth hits home for McManus that his soulful, reggae-infused blend of folk-rock and melodic hip hop and its message of strength, growth and resilience is his testimony to the world – and the world is finally listening.

Satsang, in its few short years, has headlined or shared the stage with the likes of Michael Franti & Spearhead, Nahko and Medicine for the People, Trevor Hall, Wookiefoot and many more. The quartet is currently enjoying the success of its 2019 release, Kulture, a collection of songs representing the culmination of all the band's influences.

"In Kulture, you can hear influences from Motown to 90's hip hop to Tom Petty, but none of it was really intentional," McManus says. "It was just me finally finding my sound. It's authentic. It's the first thing we've made that feels 100 percent like us."
McManus spent most of his life trying to distance himself from his troubled upbringing in Des Moines and Chicago and its cycle of violence, abuse and addiction. McManus, though, would find his peace amid family in the Beartooth Mountains of Montana, an oasis that allows him a warm hearth to recharge from the rigors of the road and practice his other passions – painting, Brazilian Jiu Jitsu, and social activism.

"Home is my heart," McManus says. "When I'm not on tour, I'm a stay-at-home dad with four kids – one of them a baby. My music is the self-reflection of that and the touring is the mirror."

During a month-long backpacking trip in the Himalaya Mountains in 2015, McManus realizes that as part of his recovery from addiction, he must share his life journey in poetry and song to help other lost souls. Songs of surrender, vulnerability and perseverance pour out of him, forming the foundation of Satsang's 2016 debut, The Story of You, highlighted by "I Am", a fan-favorite hymn of self-love that has surpassed two million listens on Spotify.

"I almost wrote those songs accidentally, not immediately understanding their connection with each other," McManus says. "Writing I Am was when it all clicked for me – that regardless of my childhood, I was meant to do this."

Satsang's follow up, 2017's Pyramid(s), quickly hit #1 on the Billboard reggae charts and #2 on the iTunes charts, while In Between Another Blink, a six-song EP released in late 2017, also cracked the iTune Top 20 chart. Much of the music on both were written as Satsang toured non-stop in 2016, sometimes before sparse audiences. The songs became a testament to the struggle of sticking to a purpose and believing in the result.

"Pyramid(s) is about building a foundation and not rushing through the difficult parts of growth, accepting that you must learn from all the lessons between the start and finish of the race," McManus says. "It helped that a lot of my friends who were doing well-playing music during this time kept saying, 'You got this, man, you got this.' "
And then, all those shows sold out …