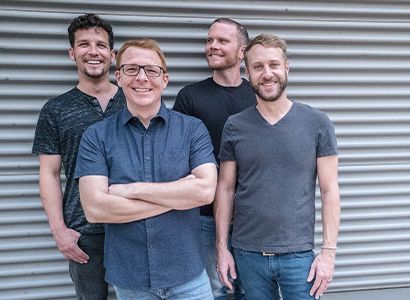 Spafford
with Cycles
| | | |
| --- | --- | --- |
| Doors: | | 8:30 pm |
| Start: | | 9:00 pm |
| Age: | | All ages |
| Price: | | $25 GA / $40 Reserved / $79 Spafford 'Fall Into Place' VIP GA |
Jam band dubbed "one of the next big things happening in improvisational music today" by Huffington Post
Buy Tickets
Event Information
Genre: Jam Band
ALL AGES: 18+ with valid photo ID. Under 18 must be accompanied by a parent or guardian.
Reserved seating is available for $40 and guarantees a seat in the reserved section. If necessary groups will be paired together at tables. Seating is based on time of purchase and the configuration of groups.
There is a ticket limit of 6 GA OR 6 RESERVED per customer based on address, credit card, email address, or other information. Multiple accounts may not be used to exceed these ticket limits. Limits for each show may vary and are listed on the individual show purchase page.
Digital Delivery is only valid if purchased from Belly Up, Aspen. Do not purchase Digital Delivery from unauthorized sources as they may be lost, stolen or counterfeit, and if so, are VOID. Additionally, we may be unable to verify that tickets purchased from third parties are valid and in such case, you may not be permitted entrance to the show. Remember, there are no exchanges or refunds.
DIGITIAL DELIVERY OF TICKETS WILL BE ON A DELAY FOR THIS SHOW, and will be emailed to the address you provided prior to the show date, typically within a week of the show, but may be as late as the day prior. This gives us the ability to monitor for purchases which may not adhere to our ticket policies. You will receive an individual email for each ticket purchased with your ticket attached. Each ticket must be readily available on your phone or printed and brought to the event. All WILL CALL tickets will be released to the original buyer or authorized transferee only upon presentation of a valid picture ID.
Orders exceeding published limits, or any tickets purchased for resale, or the resale or attempted resale of any ticket at a price greater than face value is a violation of our ticketing policy and we may cancel a portion or all of such orders without notice. Ticketing violations may result in the prohibition of future ticket purchases. In each such case, service fees charged for the purchase of tickets may be retained by Belly Up, Aspen. We reserve the right to change the delivery method from Digital Delivery to Will Call for release on the night of the show.
Supporting acts may be changed or cancelled without notice, however such change or cancellation is not grounds for refunds.
Spafford
On New Year's Eve in 2009, guitarist Brian Moss and bassist Jordan Fairless joined up to play a show in their home state of Arizona and ring in a new decade. Moss and Fairless had been playing the same open mic nights and after their first successful joint effort decided to team up and officially form a band: Spafford. After playing shows in their home state, the pair found themselves on the hunt for a new partner to help them round out their group. They found keyboard player Andrew "Red" Johnson and asked him to voyage out to Las Vegas in the run up to their 2011 New Year's show in Prescott. Johnson agreed, and has been with the band ever since. Now, with drummer Nick Tkachyk, the band brings their vibrant, dynamic music to the world at large and pushes the boundaries of what a jam band can be.

Spafford is known for their astonishing improvisational ability, which they'll use to play live off the cuff extended jams. Each song is a blank canvas, and Spafford paints a picture in real time each night with a musical palette known only to each other. It's a private language comprised of their talent as musicians, and of their formidable catalog of influences - ranging from Steely Dan, electronic acts like The Crystal Method, to 90's alt rock radio hits. Every show is a sonic pilgrimage – the journey of a team of musicians so in tune with each other that a single note communicates intent and purpose.

Even though the band thrives off the electric pulse of live shows, the same energy also translates into their studio efforts. Their 2018 release "For Amusement Only" hits to the heart of Spafford – tight, inventive, and dexterous musicianship coupled with clever retro-pop inspired songwriting. Songs like "Leave The Light On" highlight their influences – from the melodic styles of Alanis Morissette to the rhythmic bounce of Bob Marley. Other tracks like "Ain't That Wrong" and "Slip and Squander" are rich with other signature Spafford signs: vibrant vocal harmonies, complex and catchy arrangements, and sparkling, powerful performances.

Since forming, Spafford has achieved what some groups only dream of. The group is in high demand at music festivals like Bonnaroo and Firefly and consistently play sold out shows across the United States. After the successful release of "For Amusement Only" in 2018, they are eager to play new songs and evolve their sound on the road.
Cycles
Cycles epitomize the power-trio format with ripping guitar, fat bass grooves played out through furious slapping, and dynamic drum beats flowing over intricate tempo changes. Each member wields a unique take on their instrument that when played together, forms a truly fresh and cohesive sound. Patrick Harvey commands the guitar with speed and precision reminiscent of Jimmy Herring while using his loop pedal virtually as its own instrument, a skill unique only to him. Michael Wood has subtly forged a drum style that showcases his rare ability to mashup funky hip-hop beats with frenzied rock riffs and only displays flashy technique when necessary while implementing the creative use of various sound-modulating drum triggers. At the heart of the band lies Tucker McClung's dominant slap-bass chops that captivates audiences and pumps the musical blood through the band.

The current incarnation of the ever-developing sound of Cycles reveals itself today as a staggering display of seemingly innocuous lyrics over purposeful compositions that only begin to mean more with time. Screaming peaks and balanced grooves find their way out of the chaos of a jam while samples ripped from anything between Prince, Missy Elliott, Chris Farley and Mortal Kombat movie quotes (and much more) ring out in the mix adding to the multicolored blend of sound filling a room and often standing out as comedic elements of the show. Drawing influence from artists such as Rage Against the Machine, J. Dilla, Primus, Weather Report, and many more, Cycles fuse an eclectic blend of genres to produce an original sound that has become harder and harder to find. Although only a few years old, Cycles have over 250 shows under their belt with tours extending across the entire U.S. A heavy touring schedule keeps them on their toes while providing the inspiration to continue to write and always strive to play better. Look out for their name soon on a festival schedule in your hands or a club marquee playing with your favorite bands.