Thievery Corporation
with Natalia Clavier DJ SET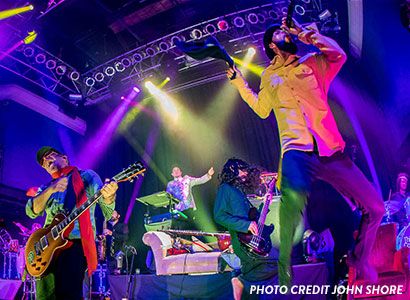 Thievery Corporation
with Natalia Clavier DJ SET
| | | |
| --- | --- | --- |
| Doors: | | 8:30 pm |
| Start: | | 9:00 pm |
| Age: | | All ages |
| Price: | | $98 GA / $295 Reserved |
Electronic music duo with hit song "Lebanese Blond" celebrates their 20th show at Belly Up.
Buy Tickets
Event Information
Genre: Electronica, Dub
ALL AGES: 18+ w/ valid photo ID, under 18 must be accompanied by parent or guardian.
Reserved seating is available for $295 and guarantees a seat in the reserved section. If necessary groups will be paired together at tables. Seating is based on time of purchase and the configuration of groups.
There is a ticket limit of 4 GA OR 6 RESERVED per customer based on address, credit card, email address, or other information. Multiple accounts may not be used to exceed these ticket limits. Limits for each show may vary and are listed on the individual show purchase page.
Digital Delivery is only valid if purchased from Belly Up, Aspen. Do not purchase Digital Delivery from unauthorized sources as they may be lost, stolen or counterfeit, and if so, are VOID. Additionally, we may be unable to verify that tickets purchased from third parties are valid and in such case, you may not be permitted entrance to the show. Remember, there are no exchanges or refunds.
DIGITIAL DELIVERY OF TICKETS WILL BE ON A DELAY FOR THIS SHOW, and will be emailed to the address you provided prior to the show date, typically within a week of the show, but may be as late as the day prior. This gives us the ability to monitor for purchases which may not adhere to our ticket policies. You will receive an individual email for each ticket purchased with your ticket attached. Each ticket must be readily available on your phone or printed and brought to the event. All WILL CALL tickets will be released to the original buyer or authorized transferee only upon presentation of a valid picture ID.
Orders exceeding published limits, or any tickets purchased for resale, or the resale or attempted resale of any ticket at a price greater than face value is a violation of our ticketing policy and we may cancel a portion or all of such orders without notice. Ticketing violations may result in the prohibition of future ticket purchases. In each such case, service fees charged for the purchase of tickets may be retained by Belly Up, Aspen. We reserve the right to change the delivery method from Digital Delivery to Will Call for release on the night of the show.
Supporting acts may be changed or cancelled without notice, however such change or cancellation is not grounds for refunds.
Thievery Corporation
When they met in the mid-1990s, Thievery Corporation's Eric Hilton and Rob Garza instantly bonded over their shared passion for bossa nova. Dedicating their 1996 debut 'Sounds from the Thievery Hi-Fi' to bossa nova pioneer Antonio Carlos Jobim, the Washington, D.C.-based duo have spent nearly two decades creating boundary-warping, complexly crafted electronic music partly inspired by bossa nova's intricate rhythms and lush textures. Now, with their seventh studio album 'Saudade,' Thievery Corporation present their first release devoted entirely to the Brazilian-born genre that first connected them. "We always try to progress into something different and stretch our musical chops, and taking a whole album to dive into this one sound seemed like a really great way to do that," says Hilton. Adds Garza: "It's a bit of a departure for us, but at the same time these are our roots, this is what brought us together. It's us coming full circle from electronic music back to something organic before we move on to our next chapter."

Released on their own label ESL Music, 'Saudade' borrows its title from a Portuguese word meaning "a longing for something or someone that is lost, a contented melancholy, or, simply, the presence of absence." "Saudade is the essence or feeling of true bossa nova," explains Hilton, who names "those warm, soulful, melancholic vocals" as one of the elements of bossa nova that's most alluring to him. Drawing influence from classic Brazilian performers like Antonio Carlos Jobim, Gal Costa, and Luis Bonfá—along with Serge Gainsbourg, Ennio Morricone, and more modern artists like electro-samba pioneer Isabelle Antena—Saudade achieves its delicate yet deeply sensuous sound with the help of more than a dozen guest musicians. With each track sung by one of five female vocalists (including longtime Thievery cohort LouLou Ghelichkhani, newcomer Elin Melgarejo, Nouvelle Vague singer Karina Zeviani, Argentine chanteuse Natalia Clavier, and former Bitter:Sweet singer/songwriter Shana Halligan), the endlessly mesmerizing album also features such guests as U.N.K.L.E. drummer Michael Lowery, Argentine singer/songwriter Federico Aubele, and master Brazilian percussionist Roberto Santos.

Thievery Corporation Present Their First Release Devoted Entirely to the Brazilian-Born Genre that First Connected Them.

Although Thievery Corporation stay true to traditional bossa nova's elegant fusion of samba and jazz all throughout 'Saudade,' the album is rich with strange and wonderful flourishes that revel in the duo's hyper-inventive tendencies. Opening with the dusky "Décollage," 'Saudade' glides from the smoldering and string-drenched "Quem Me Leva" to the hushed and mysterious "Sola In Citta" (an Italian-sung nod to the legendary sound tracks of Ennio Morricone, featuring Wurlitzer electric piano by Enea Diotaiuti) to the sweetly ethereal "No More Disguise" (a dream-like piece laced with orchestral strings and bolero rhythms). With the instrumental title track serving as its gently stunning centerpiece, 'Saudade' also offers the sultry and spacey"Claridad" (a swaying Latin number propelled by analog organ beats) and the French lullaby of "Le Coeur" (featuring the sublime saxophone work of Frank Mitchell, Jr.). And on the final track "Depth of My Soul," Halligan delivers a haunting vocal performance that merges with the song's swirling symphonic soundscape to hypnotic effect. Saudade is the Essence or Feeling of True Bossa Nova.

Over the years, Thievery Corporation have given nods to their bossa-nova influence on individual album tracks, slipping those quietly enchanting songs into recordings that reveal the duo's careful studying of everything from Jamaican dub reggae to punk to vintage film soundtracks to psychedelic space rock. After coming up with sketches for several bossa-nova-style numbers while recording their last studio album (2011's Culture of Fear), Garza and Hilton considered releasing an EP showcasing a handful of Brazilian-inspired songs. "The more we worked on those songs, the more we got into the vibe of that vintage, organic sound," recalls Hilton. "Making an album fully dedicated to that sound felt like a good idea, especially at a time when the electronic dance music world is so saturated and there's not much of a focus on musicianship." Rather than feeling hemmed in by the unfamiliar approach of creating music solely in one style, Thievery Corporation found a great deal of freedom in writing and recording the songs that make up 'Saudade.' "In a way it was really liberating to do something out of our wheelhouse, to put ourselves in a totally different mindset and immerse ourselves in this one particular genre," notes Garza.

We're Still Chopping Up Beats, But This Time We're Making Them Sound Warm And Vintage

Now on 'Saudade,' Thievery Corporation are once again changing direction, trading the fiery energy of their last two albums for a wistful mood and summery spirit—a shift that both members found highly refreshing. "Even though we're very socially conscious, it's nice to take a break from the political theme and just concentrate creating some beautiful songs in the same vein as all these old records that we love," says Garza. And as one ofthe most influential and respected names on the electronic/dance music scene, Thievery Corporation also discovered their own breed of rebellion and innovation in committing themselves to a time-worn genre on 'Saudade.'"We're still chopping up beats, but this time we're making them sound warm and vintage—which is not at all what's happening in electronic music right," says Hilton. "What we're doing here is pretty traditional and timeless-sounding, and in that it's completely contrarian."

"The Music They Were Playing And The Whole Mood Of The Place Was Very Inspiring."

Thievery Corporation was hatched in 1995 when Hilton and Garza were introduced by a mutual friend at Washington, D.C.'s Eighteenth Street Lounge — a popular gathering place for musicians and nightlife seekers that is co-owned by Hilton. Hilton had been producing parties and various music events before opening the Lounge with a fellow DJ in the top three floors of a turn-of-the-century mansion just below Dupont Circle. He also had a recording studio, where Garza had once done some music production work, but the two had never met until the night Garza walked into the Lounge.

Natalia Clavier
Growing up in Buenos Aires, Natalia Clavier was immersed in a world of music – classical, jazz, Argentinian folk & pop and Spanish singer-songwriters, as well as the revolutionary sounds of American soul and protest rock. A move to Barcelona broadened her horizons further, and she was soon adding vocals to dance singles, singing live at raves in front of thousands as well as solo in the rather more intimate surrounds of the jazz circuit. There she met fellow ex-pat Federico Aubele, an Argentine singer-songwriter with several albums to his name on Thievery Corporation's label Eighteenth Street Lounge (ESL Music). Natalia and Federico became partners, in music and in life, and the demos they made soon led to her debut album, Nectar, released in 2008 on ESL Music.

Nectar took a traditional approach, using Natalia's pure and beautiful voice to gorgeous effect over spare jazz-soul arrangements. It was a perfect reflection of where she was at during that period, as was Live at the Triple Door, the live album that followed one year later, and her live work as lead vocalist with the celebrated Thievery Corporation.
But a later move to Brooklyn brought new sounds, new ideas and a new urge to incorporate the dynamism of one of the world's premier melting spots into her Buenos Aires soul. In came Adrian Quesada, Grammy-winning producer and guitarist with Grupo Fantasma, The Echocentrics and Ocote Soul Sounds. Together they've wrought a transformation for her new album, Lumen. In place of Barcelona's laidback vibe, Lumen moves with the bumper-to-bumper bustle of Brooklyn, a place where sounds collide and mutate.

This new direction is evident right from the start with Every Time. Not only is Natalia now singing in English (though most of Lumen remains in her native tongue), but the drums strike with the hypnotic power of a hip hop loop. The piano line is stripped back and simple, like vintage Dr Dre, while the guitar resonates with a James Bond twang. Adios! adds the delirious psychedelic energy of The Echocentrics (another of Quesada's groups and one for whom Natalia has sung), a track with all the zip of Nuggets-era garage, but the snap of its distinctively South American rhythm.

Lumen is where Natalia steps out from behind the curtain and places herself center stage – the next step on her journey from the concert halls of Buenos Aries to the world festival circuit. It's an album as relevant to the streets of New York as the boulevards of Buenos Aires.

These are songs of love and lust, of excitement and adventure. Most of all they're songs of life.