ZZ Ward
with Patrick Droney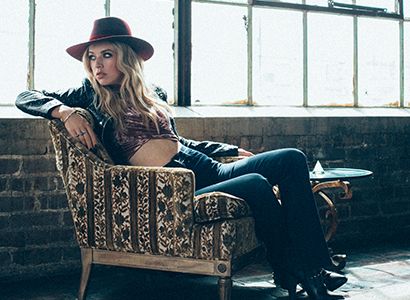 ZZ Ward
with Patrick Droney
| | | |
| --- | --- | --- |
| Doors: | | 7:30 pm |
| Start: | | 8:30 pm |
| Age: | | All ages |
| Price: | | $36 GA / $56 Reserved / $136 VIP Experience GA / $536 Ultra VIP Experience GA |
Buy Tickets
Event Information
Genre: Blues, Rock
ALL AGES: 18+ with valid photo ID. Under 18 must be accompanied by a parent or guardian.
Reserved seating is available for $56 and guarantees a seat in the reserved section. If necessary groups will be paired together at tables. Seating is based on time of purchase and the configuration of groups.
There is a ticket limit of 4 GA OR 6 RESERVED per customer based on address, credit card, email address, or other information. Multiple accounts may not be used to exceed these ticket limits. Limits for each show may vary and are listed on the individual show purchase page.
Digital Delivery is only valid if purchased from Belly Up, Aspen. Do not purchase Digital Delivery from unauthorized sources as they may be lost, stolen or counterfeit, and if so, are VOID. Additionally, we may be unable to verify that tickets purchased from third parties are valid and in such case, you may not be permitted entrance to the show. Remember, there are no exchanges or refunds.
DIGITIAL DELIVERY OF TICKETS WILL BE ON A DELAY FOR THIS SHOW, and will be emailed to the address you provided prior to the show date, typically within a week of the show, but may be as late as the day prior. This gives us the ability to monitor for purchases which may not adhere to our ticket policies. You will receive an individual email for each ticket purchased with your ticket attached. Each ticket must be readily available on your phone or printed and brought to the event. All WILL CALL tickets will be released to the original buyer or authorized transferee only upon presentation of a valid picture ID.
Orders exceeding published limits, or any tickets purchased for resale, or the resale or attempted resale of any ticket at a price greater than face value is a violation of our ticketing policy and we may cancel a portion or all of such orders without notice. Ticketing violations may result in the prohibition of future ticket purchases. In each such case, service fees charged for the purchase of tickets may be retained by Belly Up, Aspen. We reserve the right to change the delivery method from Digital Delivery to Will Call for release on the night of the show.
Supporting acts may be changed or cancelled without notice, however such change or cancellation is not grounds for refunds.
Artist Presale: Tuesday, December 10 @ 10am MT
Belly Up Presale: Thursday, December 12 @ 10am MT
Public Onsale: Friday, December 13 @ 10am MT
ZZ Ward
ZZ Ward didn't have to look far for inspiration on her second full-length album, 2017's The Storm. Equally evocative of blues grit and hip-hop bounce, the Los Angeles-based vocal powerhouse and multi-instrumentalist leapt forward by taking a deeper look at some of her earliest inspirations—including Howlin' Wolf, Robert Johnson, Vera Ward Hall and Big Mama Thornton.

"For me, this album wasn't really about experimenting," she admits. "It was more about simplicity, honing in on what I love about music and what makes me who I am as an artist. Growing up, I listened to a lot of hip-hop and blues, and I love those two genres so much. Sometimes, to evolve you don't need to go outside of yourself; you can reach further inside of yourself instead."

It's a realization earned over a whirlwind five years. The Fedora-rocking, guitar-shredding, harmonica-wielding blues siren peppered an old backporch musical recipe with hip-hop urgency and hashtaggable wisdom on her 2012 mixtape Eleven Roses. Followed by her full-length debut Til The Casket Drops yielded a veritable hit in the form of "Put The Gun Down." The latter generated 7.4 million-plus Spotify streams and held strong in the Top 10 of AAA radio for 10 weeks as well as receiving over 100 high-profile licensing placements and syncs, including the feature film We're The Millers. Kendrick Lamar ["Cryin Wolf"] and Freddie Gibbs ["Criminal"] were quick to collaborate, while Rolling Stone, Guitar World, Elle, Interview Magazine, USA Today, NPR and more extolled her. She lit up the screen on Jimmy Kimmel LIVE!, Conan, Good Morning America, The Tonight Show, The View, and many others and practically set stages ablaze on tours with Eric Clapton, Gary Clark, Jr., and Fitz & The Tantrums and at Coachella, Bonnaroo, Firefly, and Made In America.

Coming off the road, she decided to open up more than ever before.

"All of my favorite artists would tell real stories," she goes on. "I wanted to talk about similar things that were close to my heart. Every song became something I experienced. I've had my slew of disappointing relationships, times when I was pissed off, heart broken and times when I felt a false sense of euphoria. There are times when you struggle with yourself or with somebody else. I wanted to pour all of those emotions into my music, stay true to my roots, and tap into what inspired me in the first place."

Capturing this vision, ZZ recorded around L.A. at different studios and at home over the course of 2015 and 2016. She re-teamed with previous collaborators such as Blended Babies [Chance the Rapper, Kid Cudi], Neff-U [Eminem, Dr Dre], Ludwig Goransson [Childish Gambino, Haim] and Michael Fitzpatrick of Fitz & The Tantrums in addition to Warren "Oak" Felder of Pop & Oak [Kehlani, Alicia Keys, Alessia Cara] for the first time. "It was all about getting that raw emotion," she exclaims.

The first new single "The Deep" [feat. Joey Purp] emerged as a welcome surprise for fans, bottling the creative burst of confessional crooning and clever rap wordplay that defined Eleven Roses. A sample of The Charmels' "As Long As I've Got You" draped in classic slide guitar scorches as ZZ sings, "Don't know how much I can take, but I need it" before finger-snaps elevate the harmony. Kicking off 2017, W called it, "her most candid body of work yet," and The Fader praised its "spectacular effect."

"'The Deep' is about feeling trapped in a relationship that I knew was no good for me," she sighs. "I met someone that made me lose control of myself. When I wrote the song, we noticed something really haunting about The Charmels' 'As Long As I've Got You,' and we just had to sample it. I thought Joey would be perfect to bring a fiery passion and flavor to the song."

Elsewhere on the record, she serves up a gospel-style plea on the stirring and stark "Help Me Mama." "'Help Me Mama' is about my personal revelation that not everything in life is what it seems. Growing up I had expectations about what my relationships should be like with other people, the world and even myself. Realizing nothing would ever be perfect, I had to take control of my life and, unlike when I was a kid, Mama isn't always going to be around to solve my problems.

Her booming delivery on "Cannonball" [featuring 2017 Grammy-Award winning blues artist Fantastic Negrito] belies a delicate admission of admittedly being used by someone to pass the time.

Meanwhile, "Domino" [feat. Michael Fitzpatrick of Fitz & The Tantrums] hits us right in the heart. "Fitz and I wrote this song about recurring relationships that we'd had in our pasts that left us feeling unsatisfied," she adds. "I spent many sleepless nights feeling like there was something more out there for me. This song talks about the hopeless journey I faced trying to find the right person. "In the end, The Storm represents ZZ at her core. "This album as a whole really reflects much of the internal and external conflict that I've experienced. I feel like I dug deeper into what means the most to me," she leaves off. "I hope that my stories connect with people out there and help them know they aren't alone in these struggles. That's what I can give to the world. Storms come and storms pass, it's how you weather them that defines you and makes you stronger."
Patrick Droney
Awarded the Robert Johnson Star Award Recipient for 2006 as the country's most promising blues musician, Patrick Droney hails from coastal Southern New Jersey. Steven Johnson, grandson of the legendary bluesman and Chief Operating Officer of the Foundation, hails - "Patrick blew us away. We were amazed that a musician that young could play with that much skill and dexterity and with that much soul. We are excited to have him come play our festival."As not only an amazing musical genius and humanitarian, Patrick possesses a rare combination of talent, intelligence, charity and philanthropic means, qualities which are far beyond his young years. People Magazine, Philadelphia Magazine and Guitar and Vintage Magazines are among a few of the many publications which have featured pieces on Patrick. An Artist far beyond his years, he is among the youngest endorsees of Paul Reed Smith (PRS) Guitars, Budda Amplifiers and Dean Markley Strings and has had the distinct privilege of supporting Artist's such as the late James Brown and legendary B.B. King, to name a few. Recently, Patrick was a featured guest on several occasions on the "Montel Williams Show", highlighting his charitable endeavors in both the local and national communities. He also shares a board seat with B.B. King on the Robert Johnson's Foundation Heritage House, a Foundation designed to give back to local communities through the Arts. In addition, he is an Ambassador to the World Federation Hemophilia and serves on the board of Nestle Very Best in Youth Foundation.